Learning & Development
Science

A Definition of Science
Science is the process of improving our knowledge and understanding of the world and universe through scientific enquiry.
Red Lane Primary Schools: Principles and Vision for Science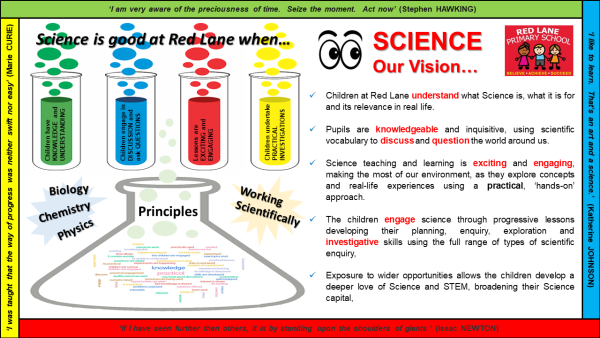 2014 National Curriculum Rationale:
'A high-quality science education provides the foundations for understanding the world through the specific disciplines of biology, chemistry and physics.
Science has changed our lives and is vital to the world's future prosperity, and all pupils should be taught essential aspects of the knowledge, methods, processes and uses of science.
Through building up a body of key foundational knowledge and concepts, pupils should be encouraged to recognise the power of rational explanation and develop a sense of excitement and curiosity about natural phenomena.
They should be encouraged to understand how science can be used to explain what is occurring, predict how things will behave, and analyse causes.'
National Curriculum (2014) – Science KS1-2 p3
OUR AIMS:
The National Curriculum for Science (KS1 and KS2) aims to ensure that all pupils:
Develop scientific knowledge and conceptual understanding through the specific disciplines of Biology, Chemistry and Physics.
Develop Scientific Enquiry in order to further understand the nature, processes and methods of science and the wider world (including health and environmental matters) through different, often self-generated lines of enquiry.
Are equipped with the scientific knowledge required to understand the uses and implications of science through wider STEM links, today and looking to the future.
Can communicate orally, using technical, scientific vocabulary and varied questioning styles.
Can use and further develop a range of written reporting and presentation techniques linked to age related expectations in both English, Mathematics and Computing.
Are capable of using Computing technology, including computers, imagining technology, data logging devices, tablet apps etc. in order to develop and extend scientific understanding.
Have opportunities to develop Science Capital, understanding the role of science and scientists (past and present) in shaping the world around us.
Our School House Teams:
Marie CURIE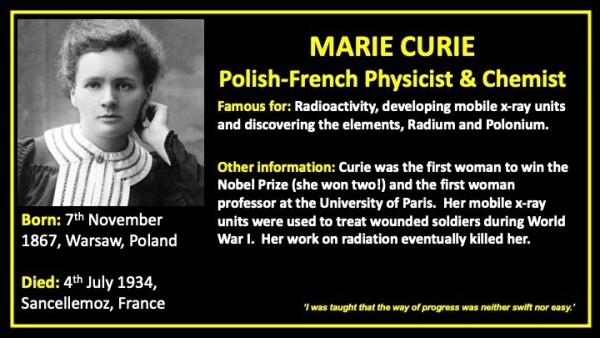 Stephen HAWKING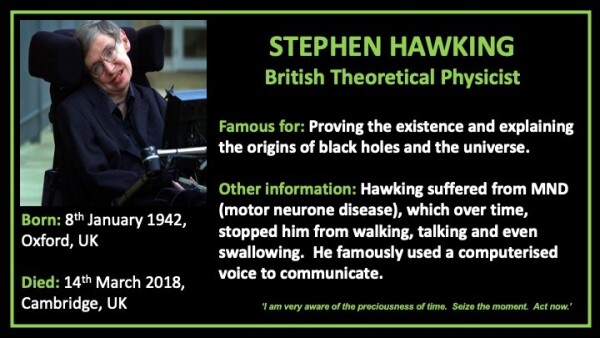 Katherine JOHNSON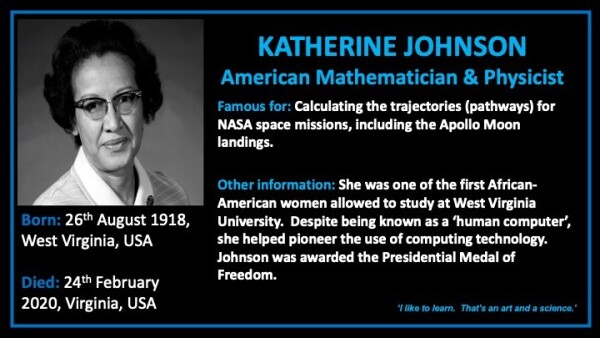 Isaac NEWTON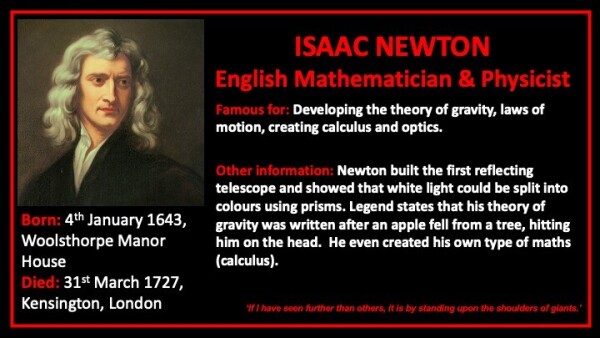 In addition to our four house team scientists, children is each year group will also learn about an additional scientist linked to one of their units of study:
Y1: Steve Irwin
Y2: John Dunlop
Y3: Mary Anning
Y4: David Attenborough
Y5: Galileo Galilei
Y6: Charles Darwin
Parents' Guides to Science:
These guides are designed to inform and help parents support the learning and enjoyment of science at home.  They all contain the following:
An overview of the National Curriculum for each year group
Suggested ideas for how to expand the children's scientific understanding
A list of websites, television programmes and apps
Suggested books linked to science for each year group
An explanation of what science capital is and suggested places to visit
The link to Red Lane's Facebook and School Website, including the Virtual School
Years 1 & 2                                     Years 3 & 4                                        Years 5 & 6
Science Capital – An Explanation:
Follow the link to watch a short video introducing and explaining the concept of 'science capital': 
https://www.youtube.com/watch?v=A0t70bwPD6Y (2:08)