Learning & Development
Eco Council
As the world has become increasingly aware of its environmental impact, so have the children of Red Lane.  Consequently, in Spring Term, a new Eco council was formed, containing representatives from Reception up to Year 6. 
Their first role was to undertake an environmental survey of the school using the criteria set by the Eco Schools award.  This enabled the children to identify key strengths already in place and importantly, areas for development, forming an action plan to improve the school's natural environment and its impact on the wider world around us.  The main aims identified were:
To increase the biodiversity of the school grounds, in particular plant life, birds, small mammals and insects.


To develop and increase the children's awareness and application of healthy living.


To reduce the carbon footprint of the school through reduced energy consumption.


To increase recycling throughout school, reducing landfill waste (working in conjunction with School Council).


In order to achieve these aims, the Eco Council needs several times each half term to implement actions and identify their next steps in achieving these goals.  In doing so, Red Lane has achieved its Eco Schools Bronze Award and is beginning the process of working towards the Silver Award.  Initial steps have been the design of a new Eco logo and the creation of posters to advise on energy saving tips and reminders about photocopying and paper usage.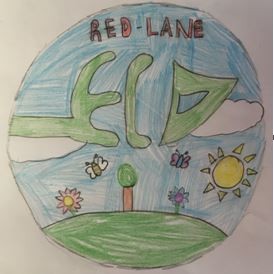 Eco Badge designed by Baylee Y4


In addition to the formation of the Eco Council, children throughout the school have been taught dedicated Eco lessons through Enrichment, learning about areas including recycling and plastic waste pollution in the seas.